Slow Food. The opposite of fast food. This amazing movement started in Italy in 1986, without much expectation of success. But people soon jumped to defend the traditional, unique dishes being displaced by cheap, mass-marketed stuff, gathering in droves under the "slow" banner. Today, the Slow Food organization includes more than 100,000 members with branches in 150 countries.
Our "slow" hiking tours celebrate the slow food culture every step of the way. On each and every one of these trips, you'll slow down, experience cultures up close, and savor some of the most magical places in the world! And if you don't see a trip you like, please know we can also create custom 1-9 day walks in any the places we travel.
All this slow movement talk takes on a whole new meaning when we think about traveling and how we move from one place to another. With slow travel, a guest experiences a deeper type of travel by taking the journey step by step, covering less territory or miles, and seeing things up close. Slow down to smell the roses, as they say. It's an easier, simpler and delightful way to travel and see the world.
5 Ways to Slow Down:
Ciclismo Classico Hiking Trips
Lose yourself along incredibly gorgeous coastal trails that are essentially a network of mule tracks and stone steps connecting the various villages along the Amalfi Coast. Once upon a time, this was the only way to get from one village to the next. So, join us on this fascinating trip focused on history, culture, food, wine, and our own two feet––which transport us from one destination to the next. Absolutely stunning!
This exclusive photo-hiking tour offers you total immersion in this natural world, one that's truly primeval. Here, lizards, penguins, and blue-footed boobies share the beach with us, unconcerned by our presence. You'll capture amazing memories as you walk along bright, white sandy beaches framed by crystal-clear aqua waters, or try world-class snorkeling at Kicker Rock. You'll enjoy the teachings of a full-time Galapagos naturalist and the one-on-one instruction by world-class nature photographer Ossian Lindholm. This exclusive expedition will open your mind to the globally important wildlife, vibrant culture, and stunning volcanic landscapes of the world's most enchanting islands.
This trip explores the beauty and essence of the Five Terre—the five lands—while based just outside the park itself in the bookend village of Levanto and La Spezia city. In this way, guests experience the intensity and beauty of the park without the stress of the crowds. This allows us to have the best of both worlds: pristine, stunning walks along the Cinque Terre and within the Parco di Portofino and quiet, tranquil evenings just for us with an endless array of healthy Ligurian wines and foods.
4. Ireland Hike
Want to experience Dingle Peninsula and Ireland's rich culture by foot? This new, invigorating hiking adventure along the Dingle Peninsula has something to offer every type of Ciclismo Classico traveler. Moderate daily hikes offer amazing views of the long, wild stretches of sandy beaches and coastal nature. You'll explore Irish and Gaelic language communities and delve into Ireland's rich musical tradition and folklore history. You'll also get a taste of fresh, delicious nouveau Irish cuisine and visit farms riddled with talented artisans and craftspeople. An amazing Irish experience–on every level.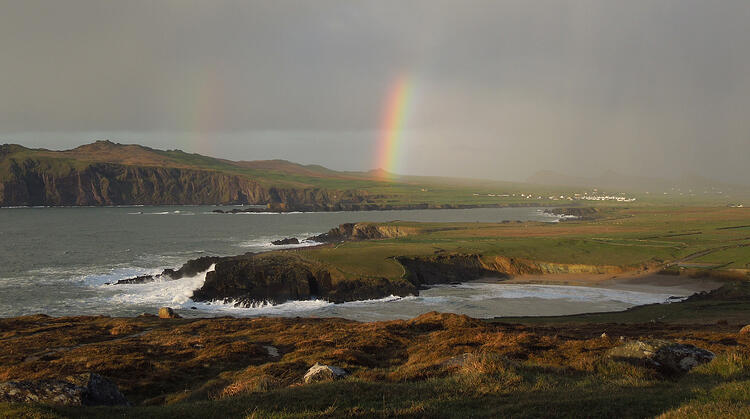 5. NEW! Northwest Argentina: Salta & Jujuy
Our itinerary covers the Calchaquí Valley and the Quebrada de Humahuaca, with sophisticated comfort combined, hiking and cultural exchange. Join us to explore the region's highlights: true off-the-beaten-path experiences. Our hikes cover geographical formations–a window into the geological formation of the Andes. We'll hike through vineyards, desert paths, pre-Inca agricultural terraces and sleepy villages where colonial churches are still the most important buildings in town. And, of course, we can't forget all the exquisite wines we'll be tasting along the way.
And let's not forget our photo + hiking adventures...
pure JOY!
A hiking trip with a photographic focus connects you even more deeply to a particular place. California photographer Leanne Hansen writes: "Photography is a record of the experiences of our lives. There is a joy in sharing a common love of visual art and cultural experiences with other people, and there is nothing like having the opportunity to travel with other photographers."
These tours are open to anyone who has a passion for the outdoors, good food, nature, and photography. It doesn't matter what kind of camera you use, nor the photography level you are familiar with. Folks with a keen photo interest need to move slowly and stop often to compose around beautiful light or an interesting scene. The idea is to experience this joy with fellow travelers. Out of joy comes great photographic artwork!


Learn more about our hiking and combo photography + hiking tours.