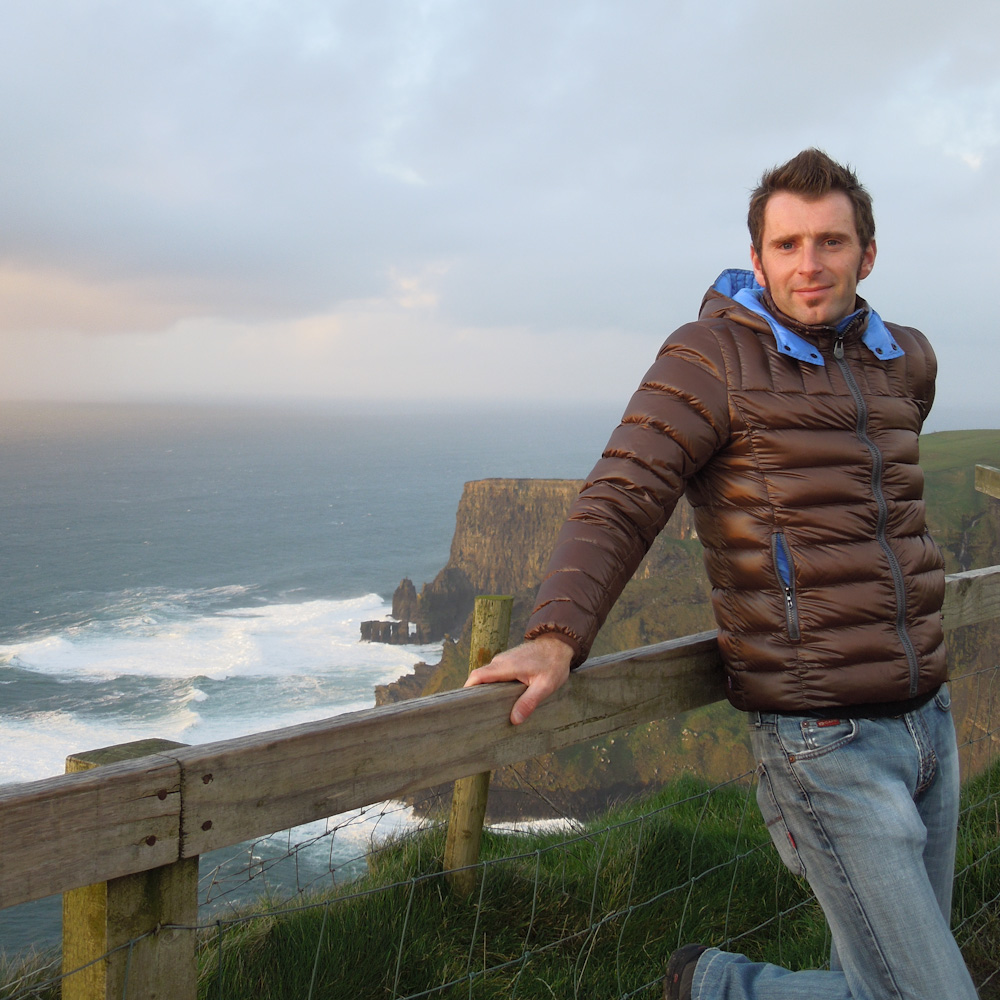 Top Guide Henrick Murphy may live in Italy, but his heart beats to an Irish drum. He's been an honorary Italian for many years and while he loves a great Chianti, he'll never turn down a freshly poured pint of Guinness. When he's not guiding, Henrick learns as much as possible about his adopted homeland.
Not only has Henrick hepled blaze new trails on our new Bike Across England this summer, but he'll also be celebrating his big 40th in Gran Canaria with Ciclismo Classico guests this December.We are truly proud to have a guy like Henrick on our Ciclismo Classico Team—he's filled with so much passion, enthusiasm and energy. As one guest recently put it: "Henrick does a fantastic job at making a very challenging ride fun—always with a smile and a great sense of humor."
It all started in 1998 when Henrick Murphy moved from Killarney (County Kerry) to the small town of Lavagna on the Ligurian coast, between Portofino and the Cinque Terre. He loves mild Italian climates, wonderful food and wine, and beautiful countryside, although his heart still remains 100% Irish.
Inspired by a cousin who raced, Henrick has been cycling since the age of five and racing since the age of 12. He fell in love with racing at first sight, but also enjoys just cruising around beautiful countryside by bike and soaking up all the sights at a relaxed, comfortable pace. His personal goal: for guests to return home after their Ciclismo experience inspired to continue traveling and discovering the joys of bicycle touring. He encourages and assists Ciclismo travelers to improve their biking technique so that they can enjoy their surroundings even more and says, "I want our guests to become friends with their bike. That way, they'll always have the perfect traveling companion!"
A Ciclismo guide since 2006, Henrick studied Leisure and Recreation Management before moving to Italy. When not guiding tours, he loves participating in bike races, traveling, snowboarding, and learning as much as possible about Italy and its vibrant culture. An avid cook, he worked as an artisan pasta chef for three years and loves trying different recipes, as well as inventing new ones.
Naturally, he also enjoys returning home to Ireland to visit with family and friends—and savor a few pints of Guinness!
Henrick on our recent Bike Across England trip, August 2017
Henrick shares:
"My bike is my passion, my travel companion, a part of my identity and my world where I feel 100% at ease. My bike is like an extension of my body! Biking incorporates all the things I love doing and gives me the chance to discover new places, meet new people, experience new cultures and as a result, makes me a more knowledgeable person. It also inspires me to appreciate even more this great natural resource that we have: two wheels, curiosity, and a world out there just waiting to be discovered!
My favorite thing about Ciclismo trips is the people, starting with our guests. Every guest has an incredible story to tell, whether about their profession, where they live, or other trips they have taken. They all have something special to contribute to our groups while we tour some amazing parts of Europe. Also, the staff and the many wonderful and helpful people with whom we collaborate in the various hotels, restaurants, and museums along our itineraries. I've become friends with many of them and always look forward to seeing them again on future tours."
A passionate cook himself, Henrick loves sharing his knowledge of food, wine and beer.
"Of all the Ciclismo itineraries, one of my favorites is the Friuli and Slovenia Bike Tour. Cycling along the river Soča in the national park of the Triglav is heaven on earth! It's perfect for cycling: almost no traffic, great roads, incredible scenery and natural beauty at its best. It's also a historical area, as it was part of the frontlines in World War I, and you can get a very tangible feeling of it being a unique place."
In early December, Henrick will join co-Top Guide Massimo Marenco for a dual birthday celebration trip (they both will turn 40) in Gran Canaria—don't miss out on the party! As Henrick says: "the locals in Gran Canaria are very proud of their island and rightly so! This past winter as we savored the views of Roque Nublo, the Bentayga and the surrounding hilltowns, I suddenly realized that we were on top of a 6,000-ft mountain in the middle of a beautiful island in early January in a pair of cycling shorts and short sleeves in the warm winter sun of Canaria. Cycling paradise!"
Check out this recent exclusive video interview below with Henrick, where he discusses his love for Italy, Ireland and different cultures via la bella bicicletta ('while traveling by bicycle')!