What makes a bike tour really hum these days? Is it that feeling of the wind at your back–even when it isn't? Of conquering greater heights than those pesky Strava elevation charts or challenges?
How about sweeping silently through vistas wider than any social media post or slick website can possibly share, while pedaling by day through serious mountains of pic-nics (Italian style), tasty snacks and gelato? Then gear down five cogs at the end of the day: aperitivo, antipasto, primo, secondo and dolce….VITA!
Call us pragmatic but as spellbinding as our Italian destinations are there is a method to our MAGIC. Amazing, experienced guides, heaping helpings of solid structure and more than 30 years experience hosting the most discerning, sophisticated guests.
This is the Ciclismo Classico difference.
Let's take a look at our Top Ten for 2019.
Uno: Bike Across Italy
Imagine enjoying the destination while equally enjoying the journey to get there? Are your ready for a central "slice" of bucolic Italy? Do you love history? Can you imagine a ride that takes you from the Adriatic Coast to the Mediterranean Sea, crossing four gorgeous regions. Experience Urbino, Gubbio, Assisi, Todi, Orvieto and the Argentario coast. Bike Across Italy and take in breathtaking beaches, majestic mountains, rolling farmland and dramatic cliffs and caves. One medieval town after the next. Hands down, this historical trip epitomizes the spirit, essence and core of Ciclismo Classico.
Due: Savor Sardinia
There's a bit of history around Savor Sardinia. It all started many moons ago, in 1983 when Lauren Hefferon, Director of Ciclismo Classico, cycled with fully-loaded bikes around the island of Sicily with a girlfriend. Years later, she developed trips there, met local guides (still working with us today) and ran special alumni trips including a special baptism tour of of her first son, Lorenzo. Likewise, Lauren cycled with panniers around the island of Sardinia, camping and exploring along the way. Lauren recalls eating freshly made, warm ricotta and a local mamma insisting on dressing her up in a traditional Sardinian wedding dress. All this nostalgia transformed over the years got wrapped up into a delicious, very popular food lover itinerary in Sardinia!
Tre: La Bella Puglia
Puglia produces more vino than any other region in Italy. Wine lovers rejoice! The history rich heel of Italy is filled with ancient Trulli structures, fortified masserie farmhouses, churches carved out of caves, olive trees, herbs, cactus, and of course vines! Long-time Ciclismo Classico guide Paolo Nicolosi put it best: "The most beautiful moments on our La Bella Puglia trip include the keen attention and interest of our lovely guests as we speak about the incredible flora and vegetation unique to Puglia: olive, carob and cherry trees, wild fennel and wild cicoria. Fava beans with chicory and the unforgettable dinner prepared for us by Francesca in Matera is just one of the many food highlights of the week. Of course in Puglia, chicory (foraged wild and cultivated since ancient times) is referred to as la verdura (the green vegetable)."
"Advice: Don't wait to take a Ciclismo Classico tour.
It will be the experience of a lifetime." -V.Adams
Quattro: La Bella Sicilia
La Bella Sicilia is an island rich with history, natural beauty, delicious food and wine...but beyond all this–the amazingly kind, warm people. With a focus on Sicily's lush green spectacle in springtime and its vast golden stage in autumn, our bike trip itinerary travels from the southern and northeastern tip of the island to beautiful and historic interior areas never seen by most travelers. Our Sicilian guides are based here and will share with you the real side of Italy's big island.
Cinque: Piedmont: Barolo and Truffles
We'll be more than fortified on this magical eno-gastronomic journey by sumptuous, refined meals pairing great wines with delightfully complementary Piemontese cuisine–an authentic blend of northern Italian and French influences. The rolling landscape of the Langhe and Roero, home to famed wine villages such as Barolo and Barbaresco, is just brimming with thousands of kilometers of small, paved roads perfect for cycling. The cooking of this region is reason enough to visit. A quarter of a century ago, Carlo Petrini founded The Slow Food movement in the small city of Bra halfway between the crest of the Alps and the sea. The people here take their food seriously. From those who farm the land, make the bread and pasta, and cook in the countless trattorias and restaurants, here you are sure to meet passionate Piemontesi people who are clearly and deeply devoted to the art of eating well.
Sei: Sud Tirol Roll
Beauty and culture come together on this easy-peasy yet exceptional tour of the Alps and the Italian Dolomites. Our Sud Tirol Roll offers a very unique concept: a cycling journey that weaves between the two very distinct Italian and German cultures on a spectacular spin along the Dolomites – without the hills! Cyclists of all abilities will enjoy this cultural and scenically diverse tour that glides (mostly downhill) along the Adige/Etsch River Valley and affords stunning views of the jagged Dolomites to the east and the Alps to the west. This trip is a dream come true.
"I love what I call the "culture" of Ciclismo tours: the quality of guests that
Ciclismo uniquely attracts, the guides who are wonderful people, eager to
share their communities, grace, skills and companionship, and the special
events, built-in celebrations. And, of course, the excellent cycling! A traveler
may pay more but will not have a richer experience." -Juliann T.
Sette: Mediterranean Island Hopping
Distinct and exotic, Italian-influenced Sardinia and French-flavored Corsica enchant all who visit their Mediterranean shores and magical hills. A food lovers paradise! From coastal seafood to freshly baked breads, olives, roasted suckling pig, cheeses and desserts–the distinctive flavors of the islands are not just Italian in origin but a complete mix and hybrid of various historical influences. Starting with the Phoenicians and followed by Carthaginians, Romans, Arabs, Moors, and Spanish, among others, the islands have been occupied by nearly every Mediterranean power for more than 2,500 years, until they became part of Italy in 1861. It's amazing to see how much ingredients, recipes, and methods of cooking vary from village to village, region to region, island to island.

But the truth is: our guests tell all. As one guest put it: "After only an hour into the trip, I could clearly see that biking was really only a part of all that we would experience. Undoubtedly, this would become an enduring part of our lives for years to come and will spawn many further educational adventures."
"10+ - BEST guides we've ever had! - J. D'Afflitti
Otto: Bike Across Southern Italy
Savor scents of oranges and eucalyptus as you cycle cliffside on the Cilento Coast, and ending on the rugged and stunning coastline of Calabria––a New York Times best "up and coming" destination. This cycling extravaganza was fueled by the success of our most popular bicycle tour—Bike Across Italy—which crosses central Italy from Fano to Porto Ercole. Director Lauren Hefferon decided to design the perfect complement: Bike Across Southern Italy, a 12-day adventure traversing the southern Italian peninsula east to west gliding through the enchanting regions of Puglia, Basilicata, Campania, and Calabria. Dreamy!
Nove: Verona to Salzburg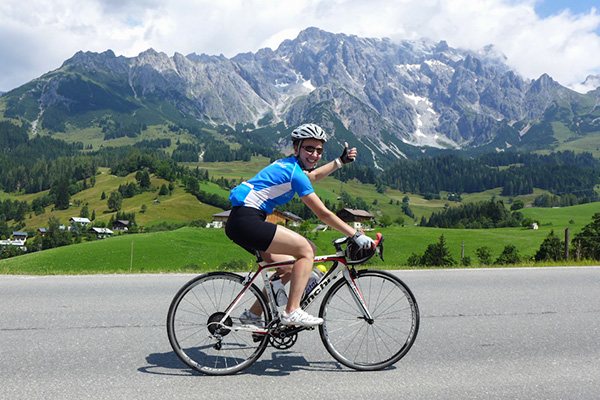 Renew your body and spirit, awaken to a rich mixture of culture and celebrate the enrichment on this bike tour in the heart of the Dolomites. Start in Veneto, pass through the entirety of Trentino and the dolomites until you get to Austria. Fairytale towns, epic passes, all surrounded by meadows of wildflowers on alpine routes made famous by the world's greatest cyclists!
Dieci: Heart of Tuscany
Last but far from least: Tuscany–the birthplace of Ciclismo Classico. We still call this place casa. This is where we get recharged in between trips; our own backyard garden and playing field. We are more than comfortable here offering three unique itineraries and fitted bespoke tours.
One Heart of Tuscany guest summed it all up very nicely when he wrote: "Highlights: It's difficult to distill the experience into just a short space. It was wonderful in every way. The guides knew the areas we were in, and their knowledge was amazing. The biking was great. We rode through breathtaking areas, and the bikes provided were top flight. It was an experience I'll always treasure. Advice: Don't wait to take a Ciclismo Classico tour. Take the trip as soon as you can. If you've never done it before, sign up and make it happen. It will be the experience of a lifetime." -V.Adams
"Keep up the good work and hang on to those guides.They're what
differentiate Ciclismo Classico from the others" -M. Wilmar